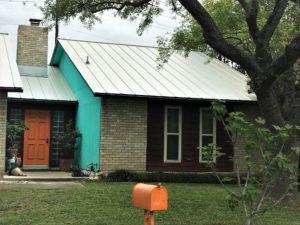 Metal roofs have become a popular options for homeowners and business owners in the past 5 years. Metal roofs are bit pricier than traditional composite shingles for several reasons. But the benefits could outweigh the cost.
At Acura Roofing, we offer all types of roof options, Metal Roofs included. There are many advantages to having a metal roof, especially if you live in Texas. Here are some pro's and con's to a metal roof.
Pros:
Energy Efficient – Metal roofs deflect a large portion of the sun's rays. You can save up to 30% on your AC bill during the summer months.
Durability – They can last longer and they are more resistant to hail and wind damage.
Low Maintenance– The require little to no maintenance and need to be replaced less frequently.
Style Choices– There are more color and style choices with metal roofs.
Cons:
More Expensive
Louder
Can Dent Easily
All in all, it is always good to speak to your roofing contractor to go over all your options. Our professionals at Acura Roofing are here to help you make the right choice with your budget and needs in mind. We are here to help in any way.
We service the greater Central Texas area including: Austin, San Marcos, New Braunfels, Bastrop, Cedar Park, Round Rock, Kyle, Buda, Wimberley, Oak Hill, Dripping Springs and Lakeway.