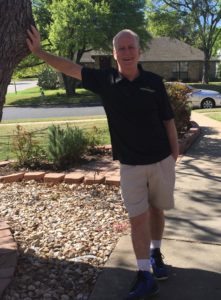 Patrick: Owner and President
Patrick started roofing as an installer, then becoming a contractor in the 80's. He utilized this training and knowledge to become owner of Acura Roofing Inc. Patrick's integrity and passion have made him standout in the industry. He enjoys working with customers and helping them make the best decisions for their home. He is a family man and enjoys time spent with his children and especially playing with his grandkids.
---
Sean: Lead Estimator
Sean is Acura's lead estimator and top repair man. As Patrick's son he shares his fathers passion for the successful future of Acura Roofing. He is professional, honest and respectful of customers and their property. He takes time to answer any questions you might have when visiting your home. He is a husband and father of two. He is an avid sports fan and enjoys all outdoor activities and games. Go Longhorns!!
---
Alissa: Office Manager
Alissa is the assistant to Patrick and newest addition to the team. She is the person most likely to answer your call and put together the estimates and invoicing. She enjoys free time with her husband and two year old son, Adrian. She loves cooking, exercising, and gardening. She is an invaluable asset to Acura Roofing.